Choose your Grand Cayman wedding reception venue
The "where" of your wedding day matters not just for the sake of photo backdrops, but for the way you feel from one marvelous moment to the next. Kimpton Seafire Resort + Spa has all the "wheres" you could ever want, from the sweeping Aurea Ballroom to our own stretch of Seven Mile Beach. Peruse the descriptions below, then choose your preferred sense of place. We're excited to bring your destination wedding to life.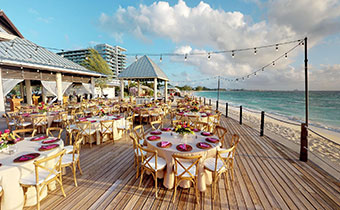 Beach Deck
Nestled between the turquoise waters of the Caribbean Sea and the lush green gardens of our resort awaits a beachfront oasis with modern sophistication featuring the perfect backdrop, seven mile beach.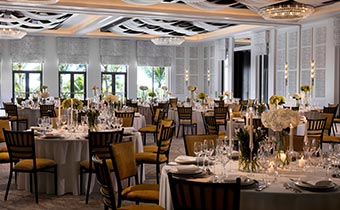 Aurea Ballroom
Simply said, we put the "grand" in grand ballroom. Ceilings soar in this 7,076-square-foot gallery of glamour, accommodating up to 500 guests for your wedding ceremony or reception.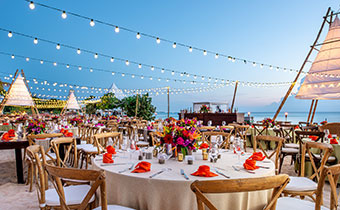 Seven Mile Beach
Designed by nature, our 500 feet of sandy shoreline is the perfect place to say "I do." We can even throw in a glorious sunset at no extra charge.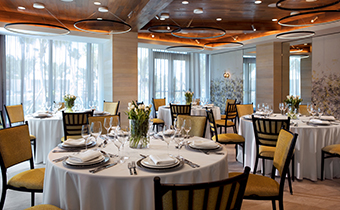 Seabridge Room and Green
The Seabridge Room holds up to 70 guests for a plated celebration and up to 130 for a reception. Directly outside is Seabridge Green which is our reception space for up to 380 guests at 2,017-sq.ft. This space is a lushly landscaped locale overlooking the Caribbean Sea. Catch the breeze as you mix, mingle and toast your undying love.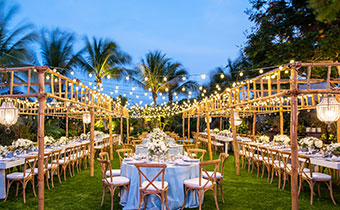 Aurea Terrace and Green
Located just outside the grand ballroom you'll discover our 2,162-square-foot event terrace and 2,490-square-foot landscaped green. An outdoor haven for you and your guests to feel the prevailing breezes and take a break from nonstop dancing.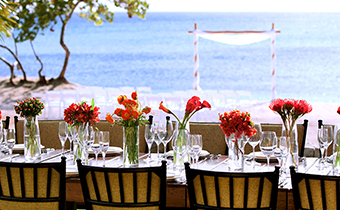 Beachfront Bungalow
Experience laid back luxury just steps from the sand in your private 5300 square foot beach hideaway. With utopia views, the secluded ocean front lawn makes the perfect venue for your wedding dinner party or welcome reception.